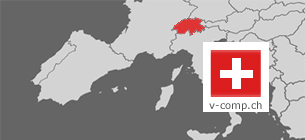 Our company the V-Comp (Suisse) Ltd. established in 2008 for information technology consultancy and project management.
IT consulting
Our competency areas are settling over a wide palette of experience and knowledge. V-Comp support costumers from business analysis to practicability study, systems design and project solution in the World of modern technology.
Project solution
Our customers only need to make a decision about a project and we are ready to do the rest. Starting with analysis and preparation, then implementation and testing, follow up set-up, then cross in service for maintenance to complement the full project entire life cycle. If a project has been to prepare we are available to achieve a full or partial absorption. Depending on project and customer requirements, we also undertake the tasks on-site or remote construction. With the latest communication technology, system development in a remote must not cause any problems: we have necessary knowledge and technology which these lines of communication we can safely apply. All these help to reach a very tight online. If necessary, our staffs are directly available. Great emphasis on communication and accordingly, most of our colleagues is English and German speaker.
Our developments generally follow the established guidelines and latest methodologies. As soon as the system concept and the related system design are complete and accepted by the client we start the implementation phase. At the same time, we start the preparation of test environments.
All our activities, project, design documentation, and produced artefacts store in version control system. Continuously monitor the developments with overnight build and test system, which automatically generates results and logs. To handling problems, V-Comp employed bug management system. As a resulting the error processing and repairs is under continuous supervision and monitoring to carry out a new version of the product. Our products delivered to customers after successfully module, system, and regression tests.
The real life of the software product begins after delivery when the live system should be support and usually continuously develop. Of course V-Comp prepared and keen to provide wide range of support and maintenance tasks to clients.
Quality assurance, Service and Application Management
Processes and products made ​​from only high-quality designs if the goals, methods, and basic conditions met and defined. Accordingly, we introduced ourselves own quality criteria and quality assurance our tasks.
We welcome clients to sharing our own long term gathered and crystallized experiences. We are especially eager to share our experiences in HW / SW / application management area in quality, service management, and control functions.